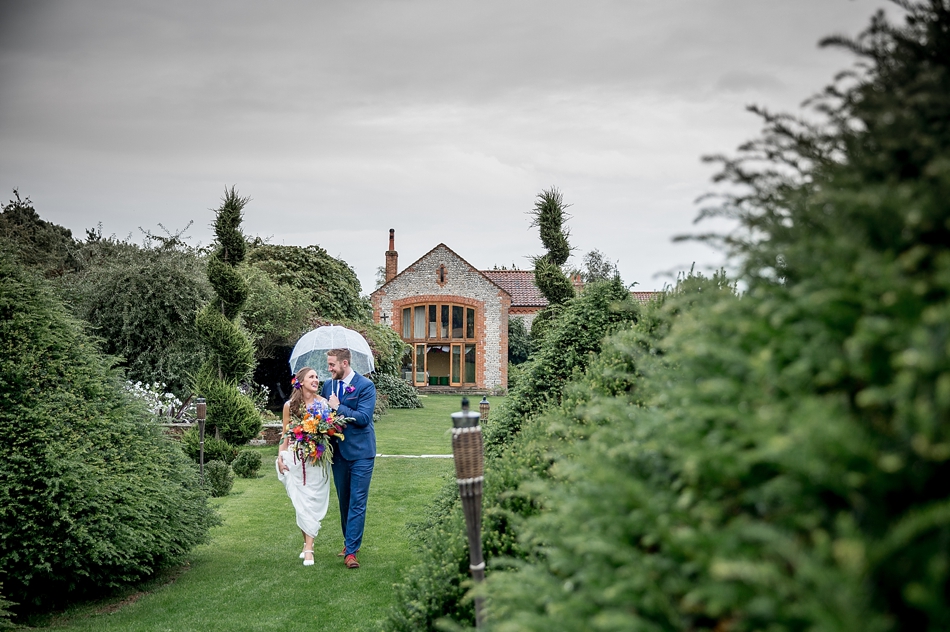 Rich and Emma's wedding was wet with a capital W! We live in the UK and rain is a fact for wedding photographers… as I loaded up the car with my gear, 3 extra pairs of shoes, boots and a change of top and waterproof coat along with lots of brollies I was soaked!
The rain only matters if you let it and Rich and Emma are the most fun laid back couple I knew they would have an awesome day whatever. If its going to be a wet day at any venue then Chaucer Barn is one of the best. The gardens are stunning but the interior is comfortable and warm with homely rooms and big glass windows with views out to the garden. With enough space for smaller group shots and plenty of options for couple shots outside with a brolly and inside I knew the rain wouldn't matter one bit!
The girls were all getting ready as I arrived and Rich, Emma and oodles of friends and family were all helping to set up the venue. Rich and Emma chose a Mexican theme and I have to say they went all out! The riot of colour and fun really showed their personalities and was a fabulous talking point for guests!
Emma had the most beautiful delicate dress that was light to wear and with no train it really meant she could enjoy the day and get outdoors when we needed to without having to worry about her dress.
They had the most beautiful and very emotional ceremony in the banqueting hall and we then managed to get outside for some confetti shots and their group photos as the rain cleared just for a little while. It started spitting again as we did their bridesmaids and groomsmen shots but Emma had brought clear brollies and the guys and girls were more than happy to keep going and get some gorgeous and fun shots in the grounds.
As we began their couple shots the rain cleared again and we had around 30 mins of dry weather to explore the grounds at Chaucer and get some gorgeous images of the two of them.
They had arranged for a Mexican street food company to do the catering and had the most delicious Mexican pulled pork, chicken and rice along side nachos, wraps and dips.
They chose to do their speeches after their main before their dessert of Churros (my fave dessert ever!) and I have to say the speeches were awesome. There were laughs and tears all round and even I welled up when Rich talked about Emma, there wasn't a dry eye in the house!
The evening drew in and the part Emma was most nervous about was their first dance. They had a Waltz prepared and hadn't been sure if they would do it or not! I was SO glad they did as they did a wonderful job and all the guests loved watching it as much as I loved shooting it!
We finished with a beautiful candlelit shot on the stairs… here are some of my faves…