I can't tell you how much I love to follow a couple or families journey. Now several years in to being a full time photographer I get lots of families come back to me year on year for shoots and couples whose weddings I captured and have now become a family having their first Lifestyle shoots with me, it is such an honor!
I first met Chantal it must be 3-4 years ago now to talk about her wedding at the beautiful Stratton's in Swaffham see this HERE. We got on like a house on fire, had all the same tastes and we both knew it was a perfect fit! Chantal is uber stylish and they are the most gorgeous couple so when Chantal asked if she could style their engagement shoot a little I didn't hesitate to say YES! The shoot was amazing, some of my all time favorite photos and as Chris is in to cycling they brought along a fabulous vintage tandem and their dog Molly to sit in the basket, see this shoot HERE.
Chantal styled her own wedding to perfection but more than how beautiful it was it was also a wonderful day. A smaller wedding filled with their closest family and friends, the atmosphere warm and fun all day long.  Being such a talented stylist Chantal has since worked on a new business called 'Angels by the Sea' styling weddings, shoots ad prop hire see her Facebook page HERE. She was also the style (and Chris the muscle!) behind our fabulous Boho shoot around 18 months ago that I just adored.
Fast forward again and they now have become 4 (including Molly!) In November they had a beautiful baby girl called Beau who has the cheekiest little smile and looks just like her daddy. We decided to wait till the weather warmed up and get some shots in the blossom so Chantal could style this shoot beautifully girly too and she didn't disappoint.
We found this incredible blossom tree which I had used on a shoot a few years ago and Chantal brought the most amazing props! Poor Beau had a bit of a cold and we also had a torrential downpour in the middle of the shoot. But once the sun came out her cheeky smile returned and we got some beautiful shots.
Here is one of my favorites from their day with Molly featured too…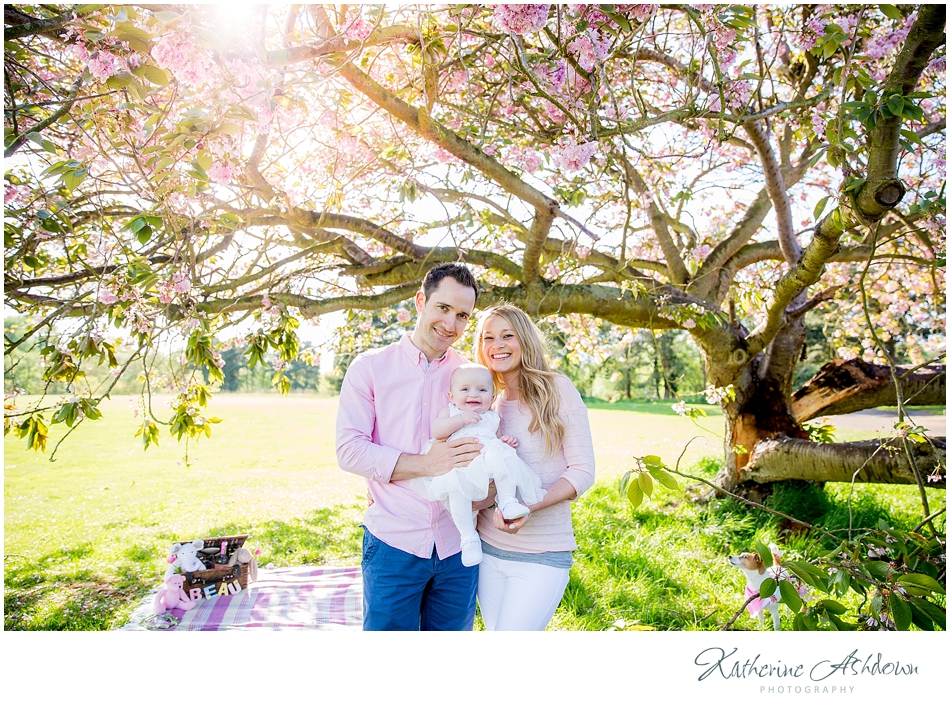 Huge thanks as always to Chantal for making the shoot so beautiful, Chris for being the muscle and making Beau smile, Molly for being very patient and Beau for being super cute despite her cold!