This gorgeous girl (and Kylie look-a-like!) is a friend and fellow photographer Janine (www.janinewarwickphotography.co.uk). Looking out on a dull January morning I decided I would like to liven things up and do a few Rock the Frock shoots. I put a call out on Facebook for some ladies with a wedding dress and Janine promptly replied with a photograph of herself in her dress! Unbelievably (or by some miracle) the gorgeous Janine fitted in to her dress 7 years after her wedding day and after giving birth to no less than 4 little boys! This deserved a celebration shoot if nothing else did!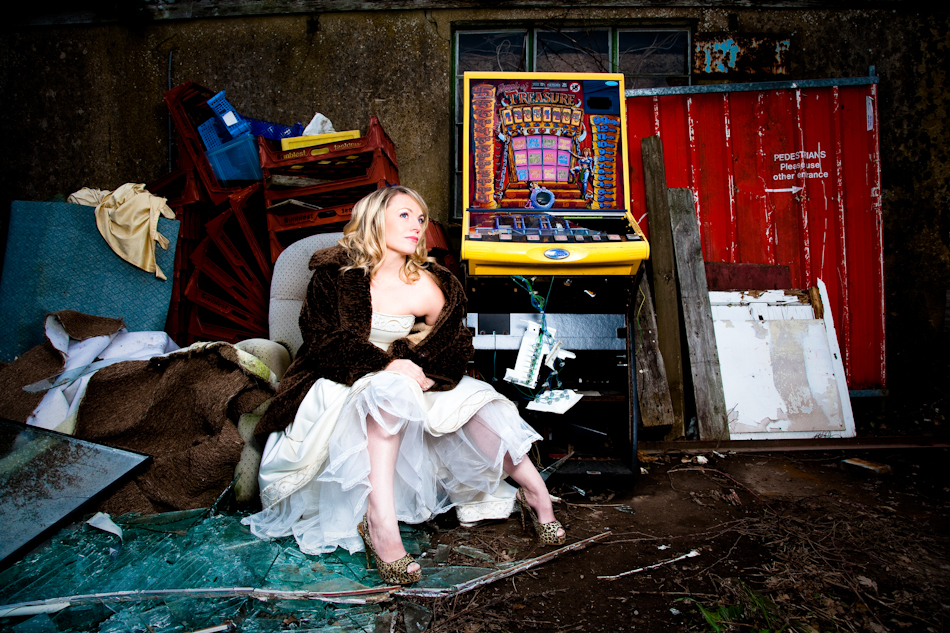 Janie's dress was from a Cambridgeshire boutique called Pretty Brides and she brought this Fab faux fur coat that used to belong to her Irish Grandma — Elizabeth and these awesome leopard print shoes which were from Miss Selfridge. Upon seeing her outfit I knew the location I had in mind would be awesome!
Tentatively I mentioned that I had thought of an old, closed down diner in a local village that had an abandoned arm chair and fruit machine round the back. I thought she might think I was insane but upon seeing the location she was as excited as me and it was then our 'Bette Lynch themed shoot!' Bouncing ideas off each other with the grey skies all the while threatening rain we had a ball and as you can see Janine was up for anything!
In fact I was thrilled that the lovely Lou at Whimsical Wonderland Weddings also wanted to post this shoot, see the post HERE.
Its always great to try to shoot two locations when doing a Rock the Frock shoot to get two different looks and as you can see with no real extra styling these locations have a totally different feel. The second location was just up the road where I had seen this gorgeous woodland with thick planting all over the woodland floor. While shooting away with Janine running bear foot and lying down in the vines (did I say she was up for anything!?) we noticed what looked like an old bus or shed through the trees. On closer inspection we found it was an old vintage removal van hidden in the woods! With it's faded removal sign, bright green paint and gnarled rusting old metal it made a perfect backdrop before we jumped back in the car to put the heaters on full blast! Here is Janine very much Rocking her Frock…
Our Woodland second location…
A Huge big thank you to the gorgeous Janine who looked amazing and braved the cold! So glad you are thrilled with the images x