A few weeks ago I had the pleasure of shooting Mark and Sarah's Engagement Shoot. This was no ordinary Engagement Shoot but Sarah and Mark had the fantastic idea of doing their shoot at night! It was the first night time Engagement shoot that I had done and I was really excited. To make it even more interesting they choose to have their shoot at the gorgeous Norwich Cathedral which, with its dramatic up-lights , Gothic doors and  stunning arches was the perfect backdrop for the most atmospheric shots at night. So on a cold February evening we met at one of the beautiful arched entrances and spent 2 rather cold hours walking around the grounds and down to the river finding some gorgeous places to shoot.
They are a really lovely couple and actually met originally several years ago, as teenagers, working at Morrisons! A few years later their paths crossed by accident and they got talking. Fast forward again and on a trip to Paris Mark proposed in the most romantic city in the world, how could Sarah say no?!
These are my favourite shots from the shoot…
My first 'painting with light shot'… I will keep practicing!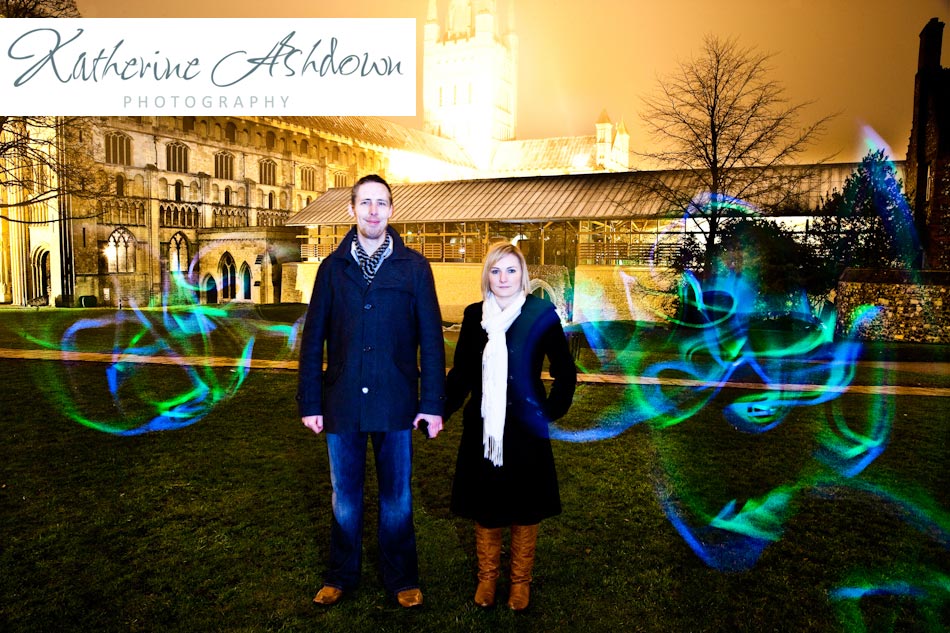 Thanks for a lovely shoot guys for braving the cold and for having this fantastic idea in the first place!