Yesterday was another sunny engagement shoot for me (I could get used to this!) I headed over to Kara's dads house who lives in the most idyllic location surrounded by park land as well as fields and woods, it was spectacular!
Dan felt a little apprehensive about the shoot worried that it was going to be hard work but he is such a warm, fun guy we just hit it off straight away. Kara has been in full on wedding planning mode so was feeling a little tense but I knew as soon as we got started we would have a ball.
Apart from the gorgeous images you get from an engagement shoot it is the most wonderful chance to spend some time having fun together in amidst the stress of all the wedding planning and they really did that!
We had a glorious couple of hours in the sunshine and I know they are going to have a wonderful fun wedding day!
We got so many beautiful images with big blue skies and gorgeous scenery but this shot stood out for me in amongst the branches of the willow tree. As soon as I saw Dan's big muscular  arms with his cool tattoos I knew I wanted to use them for an image… wrapped round Kara seemed like the perfect opportunity….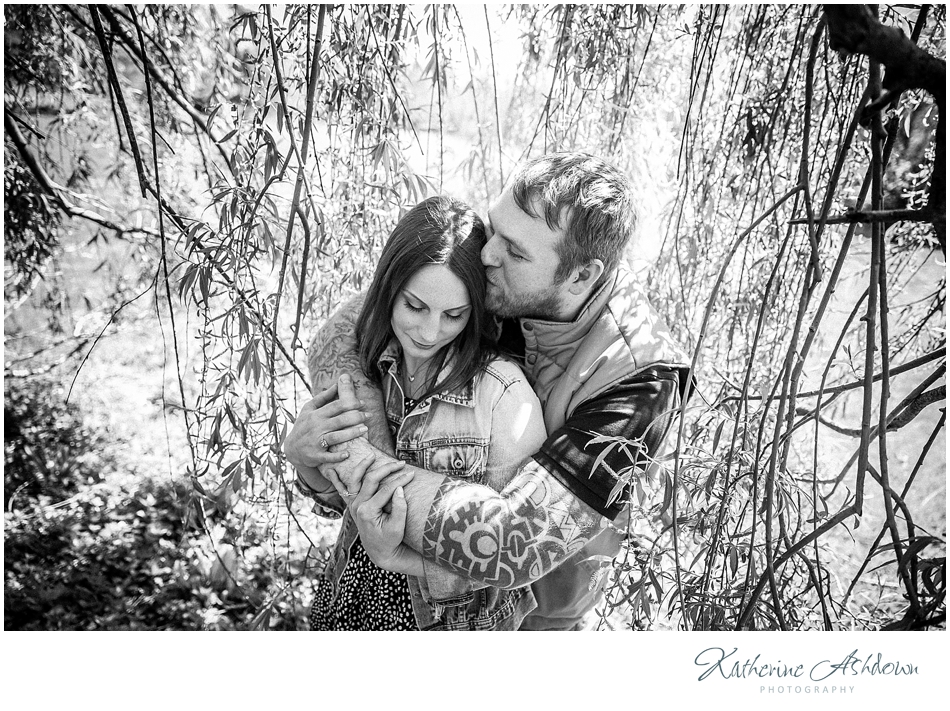 Huge thanks to Kara and Dan for being so much fun and to Kara's dad for the use of the grounds and ferrying us in his land rover! I am SO excited about your wedding day!