I have been really excited to shoot at the gorgeous new wedding venue The Boathouse for quite sometime! I have another booked in later in the year but my first ever one was for Greg and Louise on Saturday.
Louise has followed my work since Mickey and Amy's gorgeous wedding a few years ago and I have also since shot Greg's lovely sisters wedding, Kitty earlier this year so I was really looking forward to seeing lots more familiar faces on the day.
I headed over to the boys while Heather started with the ladies in the morning as they were very close together. I had a ball with the gents and got some really funny shots with them playing cricket, or pretending to!  Louise got ready at her parents beautiful home with the girls and then her Dad surprised her with her lift to the ceremony her uncles gorgeous Bentley!
We headed to the Waterside pub to meet the boat that would take her, her mum and dad and bridesmaids down the broad to the beautiful Boathouse. There was room for me too and this was one of my favourite parts of the day, the girl getting super excited as they sang 'Going to the Chapel' as we got close and waived at the guests sitting ready for the ceremony.
I haven't been to many ceremonies not in church where there was singing and being a really musical family they had arranged two beautiful songs by some of their friends during the ceremony, it was magical. After the ceremony we had a little private time with the boat they had hired so grabbed it for some gorgeous couple shots and a little ride up the broad.
In the evening we got a little more time for a second set of couple shots and then Greg and Louise did their fabulous first dance (a waltz I think?!) outside on the decking overlooking the water.
It was such a beautiful day and so great to see so many familiar faces! Special mention to Emma too who was super organised and helped Heather and I out lots on the day!
As always I struggled to choose their sneak peeks, I had lots more moments I wanted to include but for now here are my favourite five….
Singing and waiving as the boat reached The Boathouse, the most exited look on Lou's face as the registrar announced they were 'married', some romantic  time on the beautiful boat, a couple shot on the gorgeous jetty and the 'dip' at the end of their awesome first dance with all their guests surrounding them!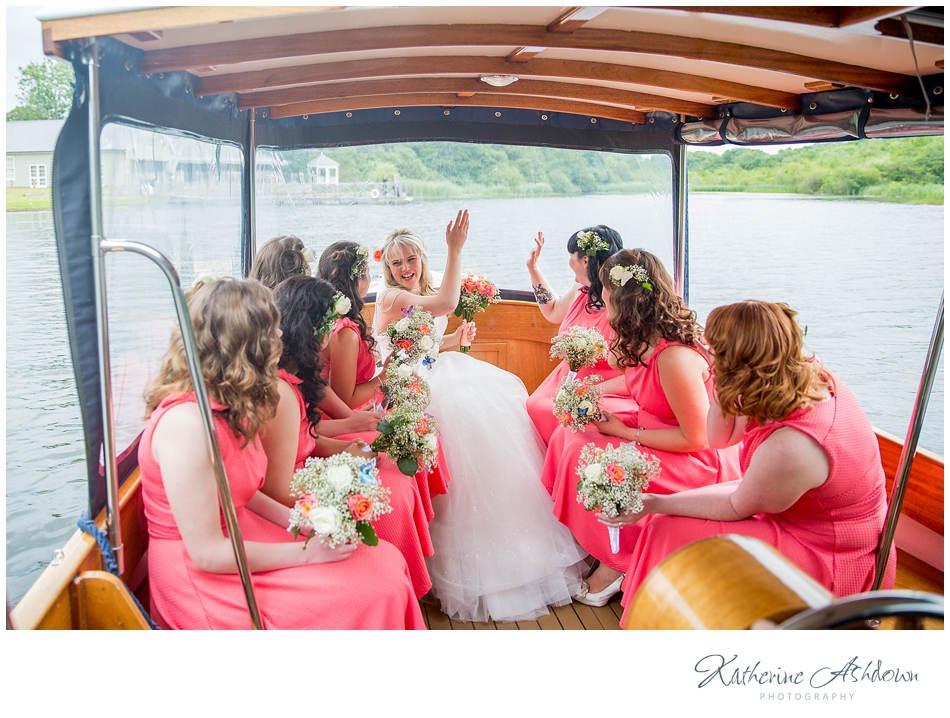 Huge thanks to Heather fir assisting and to Greg and Louise for being such good fun!