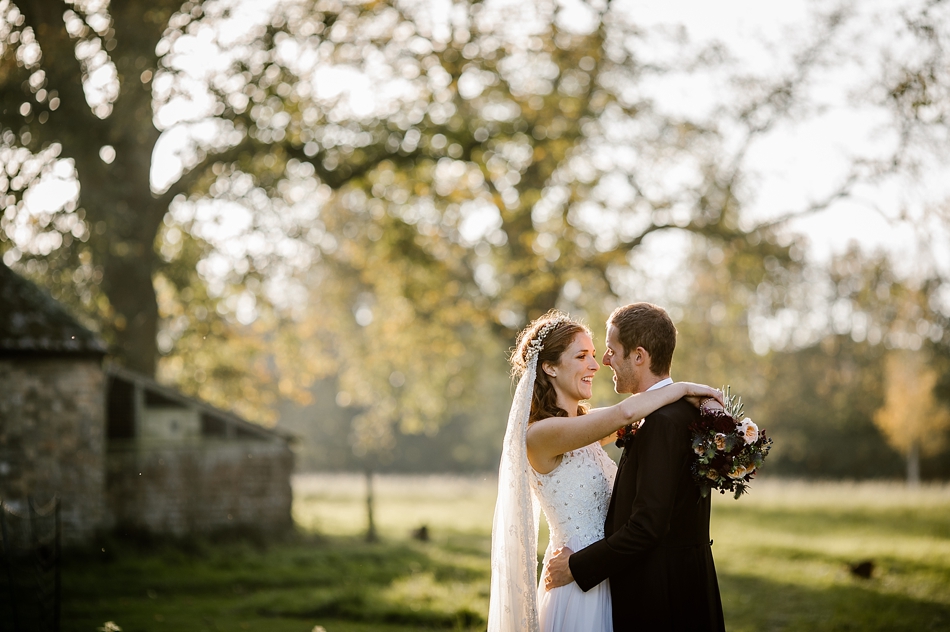 This was my final wedding of 2018 and as Norfolk is starting to feel beautifully autumnal it feels like the perfect time to share.
Ben and Laura chose to get married at Laura's family home, the most beautiful old farmhouse that had been in the family for 150 years, actually built by Laura's Great, Great, Great Grandad!
When I arrived Laura and her SIX bridesmaids were having their hair and makeup done. The house was full, sarnies being eaten, champagne being drunk and someone usually looking for their family dog Dougal!  Outside the marquee had been put up and the gardens were looking stunning in the autumn sunshine.
Laura got into her dress in her parents beautiful sunny bedroom. A room no doubt she has already spent many hours in through her life watching mum get ready, playing hide and seek and I'm guessing lots of Christmas mornings with her sister and brother waking mum and dad up! She descended the incredible staircase surrounded by family photos to meet her dad outside and the wonderful vintage car still in the family since her great grandad bought it.
Laura arrived at the village church to a little bit of a crowd of on lookers and her and Ben had the most beautiful ceremony, exiting to clouds of confetti and heading back to the house after a few family photos.
We headed into the field next door to the house for a few couple shots before they re-joined the party. They had a fabulous meal by Tris from Julie Abbs Catering and after their brilliant speeches (I have never seen best men dress up as bunnies before!) they had fireworks and sparklers to get the party started!
We left them dancing the night away with their guests!
I can't tell you how special it felt to capture a wedding at a venue that simply holds so much love and memories for Laura (and I am sure Ben now too). It felt like a real honour to capture another historic location at their family home here are a few of my favourites…